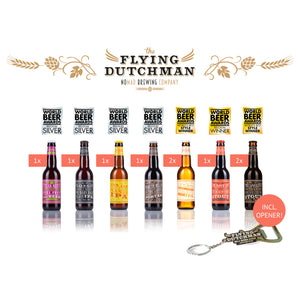 Over the past few weeks we have won 9 awards at The World Beer Awards in London! We can now call two of our beers the World's Best!
- WORLD'S BEST STOUT: More Complicated Than Your Girlfriend Stout
- WORLD'S BEST HOPPY WHEAT: Flip Flopped White Socked Strong Hopped White IPA

Every year we participate in this international competition and every year our beers make it through to the final. This is a nice reward for our work. To make it through the final every time means that the quality has to be very high and the beers have a distinctive taste to stand out.

This package contains all our Award Winning Beers, and therefore also our 2 Best Beers in the World! Unique opportunity to taste all these beers.

You also get a free Flying Dutchman Opener / Keychain worth €8.95!

Normal price for this package: €39.00
Now for: €30.00 (€9.00 discount!)

This package contains the following beers:

Country Winners:
1 x The Beast of The East The Bear Is There Russian Imperial Stout
2 x More Complicated Than Your Girlfriend Stout (also named World's Best Stout)
2 x Flip Flopped White Socked Strongly Hopped White IPA (also named World's Best Hoppy Wheat)

Silver:
1 x Black Is Black And I Want My Baby Back, Black Rye IPA
1 x Wake The Hell Up You Can Sleep In The Coffin Hazelnut Cappuccino Porter
1 x Jah Jah Rub a Dub Mango IPA 1 x Freak Kriek Zero Pint Three Feel Free Merry Cherry Beer
1 x Flying Dutchman opener
Flying Dutchman mats

We have also put together a test form for you to guide you step by step through the process of looking, smelling and tasting. You will receive this for free with your order! (will be emailed to you after 4 days).