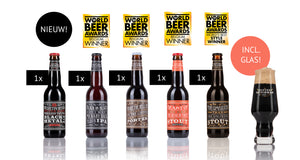 For lovers of dark beers and black magic, we have put together an exciting box with very different porters, stouts & a Black IPA. In this series you can taste how much difference there is between these beers. We will experience that raspberry and black currant go very well with dark chocolate. It is also nice to taste the differences between a stout brewed with an emphasis on coffee and a stout brewed with an emphasis on dark chocolate.
A black IPA is a completely different type of beer. Also deep black in colour, but this beer remains very fresh and fruity with a hint of coffee from the roasted malts.
The porters and stouts can also be combined very well with desserts. Think for example of chocolate cake with a beer such as Beast Of The East The Bear Is There Russian Imperial Stout. More Complicated Than Your Girlfriend Stout also pairs beautifully with a cheese board with savory cheeses. Mmmm, can't wait to taste that!
This pack contains several Porters, Stouts and a Black IPA, completed with a beautiful and unique Flying Dutchman glass. 

This box contains the following beers:

2 x Raspberry Dipping Chocolate Dripping Super Trouper Porter
2 x The Gothic Prince Of Darkness Black Currant Porter
2 x Wake The Hell Up You Can Sleep In The Coffin Hazelnut Cappuccino Porter
2 x The Beast of The East The Bear Is There Russian Imperial Stout  

1 x More Complicated Than Your Girlfriend Stout
1 x Black Is Black And I Want My Baby Back, Black Rye IPA
1 x Flying Dutchman glass

Flying Dutchman coasters