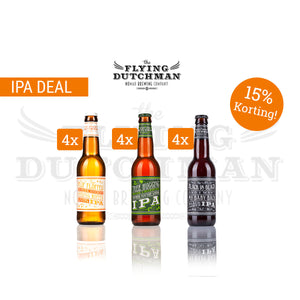 Special IPA Deal
In this unique package we have brought together our best IPA beers, with a nice discount! 
This pack contains the following beers:
4 x Tree Hugging Wood Chopping Mother Nature Loving IPA

We should all hug a tree more often. That is a scientific fact. Now you can do this easily and safely without stepping into the wild nature and facing bears and other scary things. Just sip this beautifully balanced IPA, aged on a bed of American Oak chips. Brewed with Centennial, Mosaic and Citra hops it delivers a very fresh citrus taste, which is nicely combined with the scent of pine tree. All this is balanced by a nice firm body obtained from the different barley malts. In the long finish you will find notes of wood and vanilla. Wow, that sounds good.
4 x Flip Flopped White Socked Stron Hopped White IPA
When you marry a Belgian White with an IPA, the love child is usually a lean, freckled sunburnt beer, pale as Johnny Winter but smooth as Barry White. Flipped Flopped White Socked is brewed with pilsner malt and wheat malt and hopped with Centennial, Cascade, Citra and Equinox hops. To make it even more interesting, we add orange zest, coriander and juniper berries, which give a nice fruity and spicy touch. The result of all this madness is a refreshing wheat beer brimming with citrus and fruity flavors and a balanced nice hoppy finish. To be enjoyed in the company of blondes at white weddings!
4 x Black Is Black And I Want My Baby Back Black Rye IPA
Take a sip of this beauty and you'll soon realize there's no turning back, Rye really is the new black! Brewed with Pale ale malt, rye malt and roasted wheat malt and hopped with Columbus, Chinook, Centennial, Amarillo, Simcoe and Citra hops provide a nice contrast in this IPA; heavenly refreshing taste and the color so black that even the Gothic Prince of Darkness gives you a thumbs up for approval. Enjoy the soft notes of dark malts, the crunchy taste of the rye malt and the fresh flavors of the best American hops. Or sink into your darkest cares!
Normal price for these 12 bottles: €34.20
Now with 15% discount only: €29,-