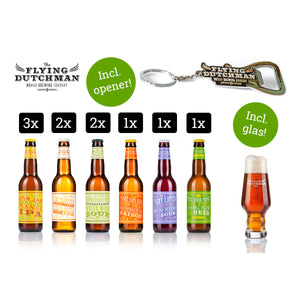 In Finland, Mid Summer is one of the most important holidays of the year.
On this day, June 24, the Finns celebrate that it is the longest day of the year. The sun shines all night long. This is the start of the holiday season for the Finns and they all leave for their summer cottages, deep into the woods. They like to stay there, especially in their sauna next to the lake. The cities are really empty in the weeks that follow, something you can hardly imagine. For this package we have chosen our sunniest beers.
The package contains 2 IPAs, 2 sours, 1 saison and a fresh non-alcoholic beer.
And a UNIQUE The Flying Dutchman beer glass plus opener!
This box contains the following beers:

3 x Jah Jah Rub A Dub Mango IPA  

2 x Flip Flopped White Socked Strong Hopped White IPA

2 x Gosh It's Posh Elderflower White Wine Sour  

1 x More Dry And Sour Than Your Mother In Law Saison
1 x Tight Lipped Dry Humored Why So Serious Nordic Berry Sour
1 x Free Your Mind And Your Ass Will Follow Alcohol-free beer
1 x Flying Dutchman glass

1 x Flying Dutchman opener