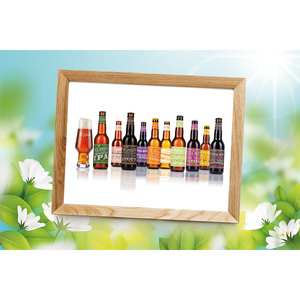 It's spring! It's going to be nice weather this week, and that includes delicious spring beers. To enjoy in the sun.
We've selected the best beers for you that are perfect for spring.

A box with some delicious IPA beers. And how about a delicious fresh Sour with fresh rose hip juice? Even our alcohol-free Kriek is a party in the sun!

And you can enjoy these beautiful beers in a special Flying Dutchman glass!
This box contains the following beers:
1 x Tree Hugging Wood Chopping Mother Nature Loving IPA

1 x Flip Flopped White Socked Stron Hopped White IPA
1 x Jah Jah Rub A Dub Mango IPA
1 x More Dry And Sour Than Your Mother In Law Saison
1 x Rose Hipped Hibiscus Dipped Flower Power Funky Sour

1 x Gosh It's Posh Elderflower White Wine Sour
1 x The Gothic Prince Of Darkness Black Currant Porter

1 x Wake The Hell Up You Can Sleep In The Coffin Hazelnut Cappuccino Porter

1 x Freak Kriek Zero Point Three Feel Free Merry Cherry Beer

1 x Free Your Mind And Your Ass Will Follow

1 x Flying Dutchman glass
Flying Dutchman coasters