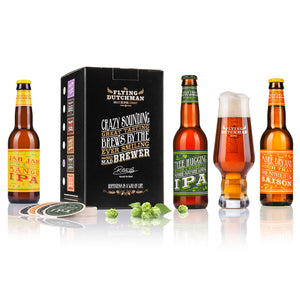 We have put together a very nice luxury gift box with three blond beers and a unique Flying Dutchman glass with matching coasters. This luxurious gift box is sure to impress the lucky recipient.
The beers in this box are all award winning beers that have won international awards.
We packed three different styles in this gift box:
- an IPA aged on wood chips
- a Saison with orange peel, coriander and paradise seed
- and a Session-IPA brewed with mango
These blond beers are very accessible, so they are also suitable for the novice beer explorer or discoverer.
This box contains the following beers:
1 x Tree Hugging Wood Chopping Mother Nature Loving IPA
1 x Jah Jah Rub A Dub Mango IPA
1 x More Dry And Sour Than Your Mother in Law Saison
1 x Flying Dutchman glass