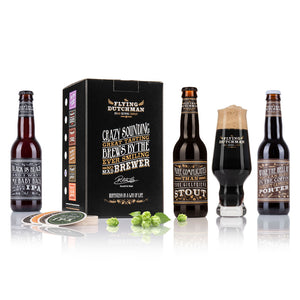 We have put together a very nice luxury gift box with three dark beers and a unique Flying Dutchman glass with matching coasters.
We packed 3 different beer styles in this box:
- a stout
- a porter
- a Black IPA.
These three beers give an impression of how different dark beers can be.
The beers in this box are all Gold award winning beers. Our More Complicated Than Your Girlfriend Stout was even voted World's Best Stout in October 2021!
These dark beers are real enjoyable beers to sit down quietly.
More Complicated Than Your Girlfriend Stout is brewed with coffee, cocoa and Bourbon Madagascar vanilla. Wake The Hell Up You Can Sleep In The Coffin contains smooth, sweet coffee beans from Colombia and Indonesia, Ceylon cinnamon sticks, Bourbon Madagascar Vanilla, and dark chocolate. Black Is Black And I Want My Baby Back is brewed with rye malt and the best American aroma hops. This gift gives an adventure of flavors and moments of enjoyment!
You go on an adventure with fruity non-alcoholic beers, hoppy IPAs, fresh Sours, a spicy Saison, Porter with raspberries, Stout with chocolate, coffee and vanilla. Wow, that sounds so good!
This box contains the following beers:
1 x More Complicated Than Your Girlfriend Stout
1 x Wake The Hell Up You Can Sleep In The Coffin Hazelnut Cappuccino Porter
1 x Black Is Black And I Want My Baby Black, Black Rye IPA
1 x Flying Dutchman glass
Flying Dutchman coasters