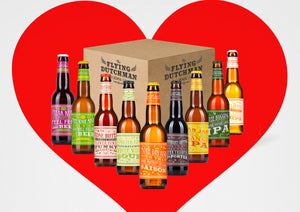 It's almost Mother's Day. The day to let mothers, mothers-in-law, grandmothers or just a friend know that you are thinking of them!
Surprise your mother with this special beer package from The Flying Dutchman! That is something different than a bunch of flowers.
We have selected delicious, award winning beers for this special package.
And you can enjoy these beautiful beers in a special Flying Dutchman glass!

10 beautiful bottles, including glass!
Normal price for the bottles from this package would be: €33.55

Now with more than 10% DISCOUNT only €29.95!


This box contains the following 10 beers:
2 x More Dry And Sour Than Your Mother in Law Saison  

1 x Flip Flopped White Socked Strong Hopped White IPA  

1 x Tree Hugging Wood Chopping Mother Nature Loving IPA

1 x Jah Jah Rub a Dub Mango IPA

1 x Gosh It's Posh Elderflower White Wine Sour

1 x Rose Hipped Hibiscus Dipped Flower Power Funky Sour
1 x Raspberry Dipping Chocolate Tripping Super Trouper Porter
1 x Free Your Mind And Your Ass Will Follow Alcohol Free
1 x Freak Kriek Zero Point Three Feel Free Merry Cherry Beer Alcohol-free
Flying Dutchman glass