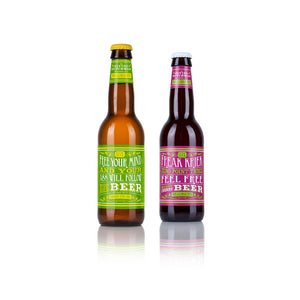 Without alcohol you can still get something exciting in your glass! Ideal for when you still have to drive, want to exercise or you just like to enjoy without the alcohol in your body. With our non-alcoholic beers you get a nice taste sensation
and you don't have to spend the evening with a glass of water.
So we can honestly say: Cheers, to your health!
This box contains the following beers:
6 x Freak Kriek Zero Point Three Feel Free Merry Cherry Beer 0.5%
6 x Free Your Mind And Your Ass Will Follow 0.5%